More Website Templates @ TemplateMonster.com. May 14, 2012!
We provide you with the highest level of services
One of the leading web designing company
click here
W

hy us?

aksa Software Solutions Pvt. Ltd. completes its eleven years of successful operations, in the pursuit of providing quality services and extending relentless support to its clients and associates.
I

nfrastructure Management Services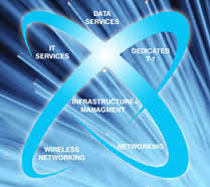 A significant change and increasingly. IT teams are focused
on delivering business value, improved efficiency and variabilization of costs. The focus of business nowadays.So, IT Infrastructure management services in the overall context, can increasingly help businesses solve complex problems & ensure growth rather than be a mere tool to reduce IT costs
has turned to: "How can we leverage IT infrastructure for business growth and innovation? and, How can
IT infrastructure management help businesses to be more agile and flexible, addressing demands such as ramp-up or ramp-down considering the prevailing macroeconomic scenarios?"
Wipro's infrastructure management services with its strong domain capabilities and specialized capabilities
Data Center, End User Computing, Networks, Managed Services, Cloud, Business Advisory and Global System Integration helps businesses across the globe to transform their vision to reality.Our services are built on the concept of 'Standardization at the backend' to bring in operational efficiencies and drive down costs. We also help our customers to variabilize their IT costs to bring in Business Agility in the current macro-economic scenario.